Home
Talk

5
130pages on
this wiki
ATTENTION: Upcoming changes planned for the wiki
A number of changes will soon be happening on the wiki. The most noticeable of these will be a complete redesign of this Main page, as well as a general "facelift" for the style elements on all pages. Anyone with experience in CSS (especially CSS3) is welcome and encouraged to contribute to this effort.
Regular visitors to the page might want to check in periodically over the next few days (or possibly weeks) to watch as these changes take place. We hope to transform the wiki from its current state into something that looks and feels like an extension to the game interface. With that in mind, we ask for your patience, as this endeavor has been described as ambitious, and may require us to learn a few things to bring it all together. We thank you in advance. 

Welcome to the Nemo's Reef Wiki!
Nemo's Reef is a reef building game for iOS, Android, Amazon and Windows 8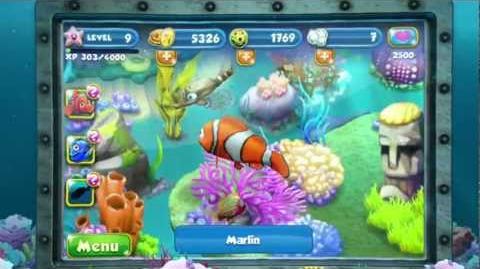 Following are some links to areas of particular interest within the wiki:
Rare Fish Calculator - NEW!!
Patch Calculator - NEW!!
Limited Time Coral and Living Plants
Weekend Challenges
Some weekends there is a challenge, a special event. Challenges can give a limited rare fish. Bruce the Shark was a common challenge prior to the arrival of Squirt & Crush.
Helpful Hints
Enjoy playing every level; do not rush. The highest current level is 55. As you progress through the levels - understand your play time schedule. This will help you determine the right combination of living plants and corals to grow in order to maximize production at harvest time.
Mr. Ray assigns homework each day:
Daily Homework starts at 7 a.m. in your time zone and ends 15 hours later.
Be sure to tap the homework icon before collecting pearls or harvesting algae or sand dollars. It may allow you to complete a homework task right away.
Keep track of the tasks you receive, and grow the right kind and number of coral or living plants to be ready to complete certain tasks again (on a different day.)
Plant rare seeds often. If homework does not require growing rare plants, do not feed the third time. The next day's assignment may require growing rare plants, and having some available with only one feeding left will save time.
When collecting pearls from rare fish - keep 6-10 fish unfed until the following day's homework. This will allow you to complete a task of "Feed X rare fish" if it is assigned.

Bruce may come to your reef to time to time. You may have to find the hiding fish.
The maximum number of patches available is 110 at level 55. Use them wisely. The cost of a patch increases with each one purchased.