Here you can find glitches that have been found in the game.
"White" Red Hawkfish
This glitch is triggered when you visit a friend, after you leave your friend's reef, your
Red Hawkfish
's markings will be white instead of red.
Clown Triggerfish "Twins"
This glitch is triggered the same way the
Red Hawkfish
glitch is triggered. When it's triggered, your
Popeye Fish
will be replaced by a second
Clown Triggerfish
.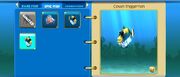 Tubipora Coral Glitch
This glitch is also triggered by visiting a friend. Once triggered, your Tubipora Coral will be in the shape of a Sea Pen Coral.
Ad blocker interference detected!
Wikia is a free-to-use site that makes money from advertising. We have a modified experience for viewers using ad blockers

Wikia is not accessible if you've made further modifications. Remove the custom ad blocker rule(s) and the page will load as expected.