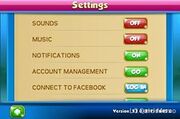 Settings: To find your settings go the menu tab on your device.
Sounds: You can turn your sound on/off here.
Music: You can turn your music on/off here.
Notifications: You can turn your notifications on/off here.
Account Management: Change Name (click "GO")
    If you accepted a predefined name at the time of your first login, you can change your name here.
   If you want to migrate your profile to another device, please contact Customer Support.

  Help.disney.com/Games/Nemos-Reef
  Connect to Facebook: Here you can Log into Facebook & connect with your friends. (The app does not post to Facebook)
Credits and Privacy: Here you'll find the latest update and Disney's "Terms of use" and Privacy Policies"
Subcategories
This category has only the following subcategory.
Ad blocker interference detected!
Wikia is a free-to-use site that makes money from advertising. We have a modified experience for viewers using ad blockers

Wikia is not accessible if you've made further modifications. Remove the custom ad blocker rule(s) and the page will load as expected.